Students Feeding Students
Fighting student hunger one bag at a time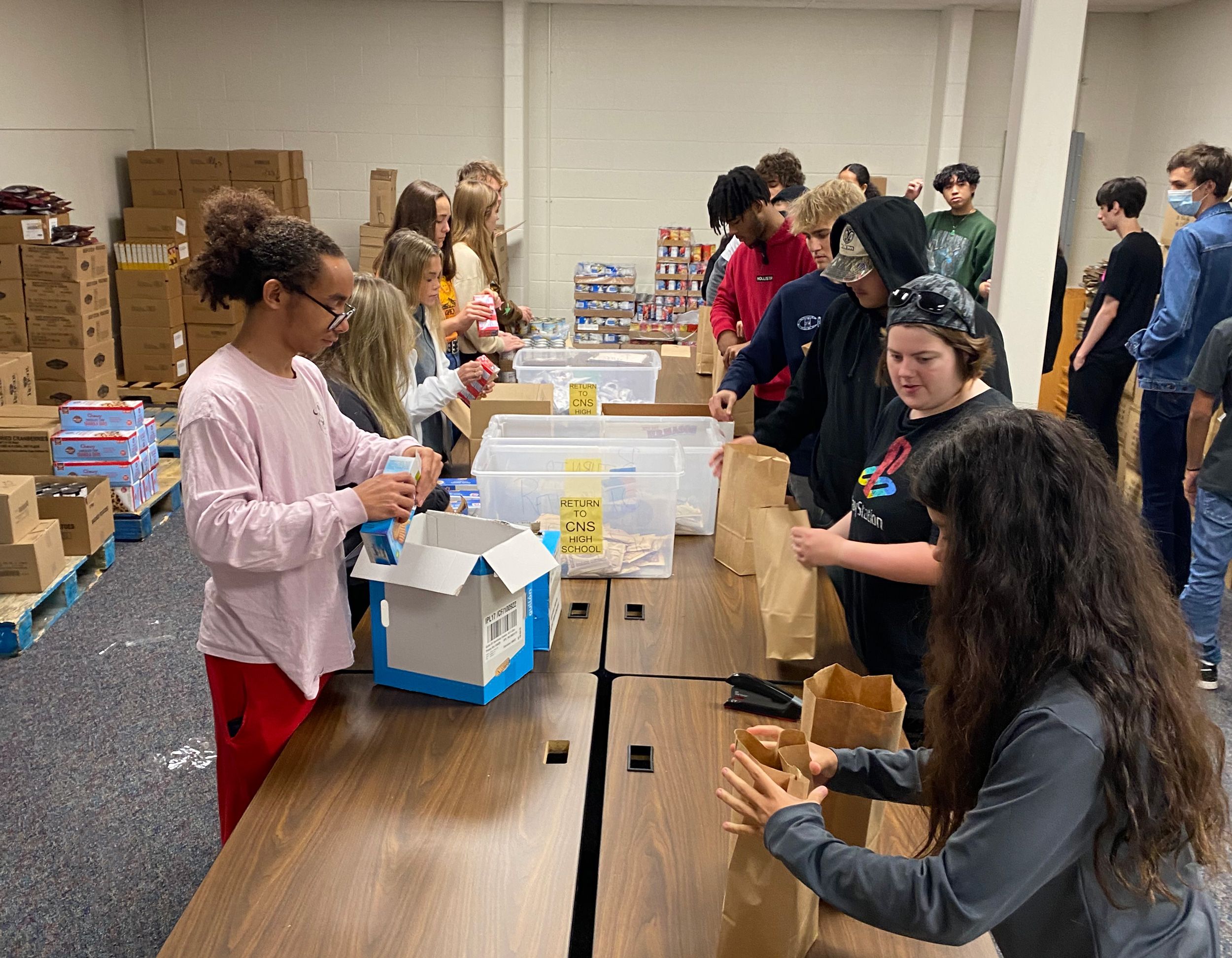 Social studies teachers Matt Root and Mark Parrish wanted their Participation in Government students at Cicero-North Syracuse High School to use their mandatory community service time more meaningfully - and they found the solution in a cafeteria closet. Today, their students are feeding 240 hungry classmates per week.  
The North Syracuse Central School District, which contains 11 schools, boasts a median household income of $76,523, well above the statewide average of $68,304, and yet, Root and his colleague knew that 28 percent of district students were eligible for free or reduced lunches, and that many students lived in poverty.  
Root and Parrish, both members of the North Syracuse Education Association, decided they could combat hunger with help from their government students. Each week, these students would use their community service hours to assemble and distribute food bags for their in-need peers. Root says the program was mind-blowing for his students. "Students couldn't believe there were people walking around in this building without enough to eat," he said. 
And the needs go well beyond their school, too, with 1 in 7 children statewide experiencing hunger, according to Hunger Solutions NY. What's more, too many are not accessing free school meals because of stigmas, literacy and language barriers, and administrative burdens that keep families from applying in the first place.  
It is why NYSUT has joined a coalition with Hunger Solutions NY and myriad other groups to advocate for some $200 million in the upcoming state budget to provide free school meals for every student, regardless of socioeconomic status.  
The proposed Healthy School Meals for All program would provide breakfast and lunch to an estimated 726,000 students statewide, at no cost. School meals account for over half of a child's daily calories, and this program would safeguard a reliable source of calories for children and ensure those calories were part of a healthy balanced diet.  
Research has shown that universal meals support academic achievement and improve attendance and classroom behavior. The program would also provide financial relief for families, many of whom face wealth gaps that began to widen during the pandemic.  
The CNS food pantry is a perfect example of this. In January 2020 Root and Parrish's students were packing 45 snack packs per week, but throughout the COVID-19 pandemic, demand for food bags skyrocketed.  
At the height of the pandemic, Root and Parrish were working with union volunteers to pack 200 bags a week to feed hungry district families. River Valley Foods, a full-service grocery distributor signed up to provide weekly donations, and the team shifted from packing snacks to filling bags with ingredients to make balanced meals. In 22 weeks, the small team of volunteers distributed 60,000 pounds of food, Root says.  
"What that taught me was how to do this at the school on a full-time basis," Root says.  
And that is exactly what they have needed to do in the intervening years.  
Food insecurity at CNS - and at schools across the country - has only increased in the wake of COVID-19. Last year, CNS high schoolers assembled and delivered 240 bags a week to food-insecure families in the district. The program had to scale up slowly, adding new schools and more student staff each year.  
Roxboro Road Elementary School was one of the first schools to sign on to the program, with help from Kerry Delduchetto, elementary school counselor and member of NSEA. "Roxboro Road Elementary is a high-needs school and the extra food at home really helps families when they can't rely on school lunches," said Delduchetto. "It is incredibly eye opening to see the levels of food insecurity in the community." 
Food insecurity contributes to physical and emotional dysregulation, said Delduchetto. "Children come to school hungry, and you can see it in their body language. They look tired, weary, and unenergetic," she said. "I have also observed that food can have a calming effect on angry students. It is a challenge for students to focus when they feel so hungry." 
Food insecurity also creates learning problems, and Root and his team have witnessed that first-hand. "You can't learn when you are hungry," Root said. He pointed out that the temporary universal school meal policies implemented in the 2020-2022 school years had a positive effect on students. "The benefits of that program were immense," he said.  
"Food is our most basic need, and food insecurity creates great stress for kids, who wonder where their next meal is coming from," said Root. "We, as a society, need to do a better job ensuring that this problem is solved." 
Author
Share
Tell Your Story
Do you have a story about extreme heat or cold in your classroom? Please share it so we can continue to push to address this issue.