Community Schools
The community school model provides wrap-around services for students and families. It makes the school a critical center of community life. Schools and communities grow stronger as a result.
What is a Community School
---
Community schools serve as hubs in their communities, providing valuable supports for students and families. They provide wrap-around services that help keep families healthy, communities safe and children supported in various ways.
Community schools are led by a community school director/coordinator. Their job is to forge connections with local groups and organizations and to align the services provided by the community school with the needs of area families and students.
While most often associated with urban districts, the community school model can and does work in suburban and rural areas. Each community school reflects the needs of the community it supports, so the model will look slightly different from district to district.
Out of 731 school districts in New York state, only about 296 utilize the community school model.
How Community Schools Work
---
Community schools collaborate with educators, families and community groups to bring much-needed services into school settings. There is no single model for community schools: Each school's offerings will differ, depending on location and the needs of the community they serve. Below are some examples of community school service offerings.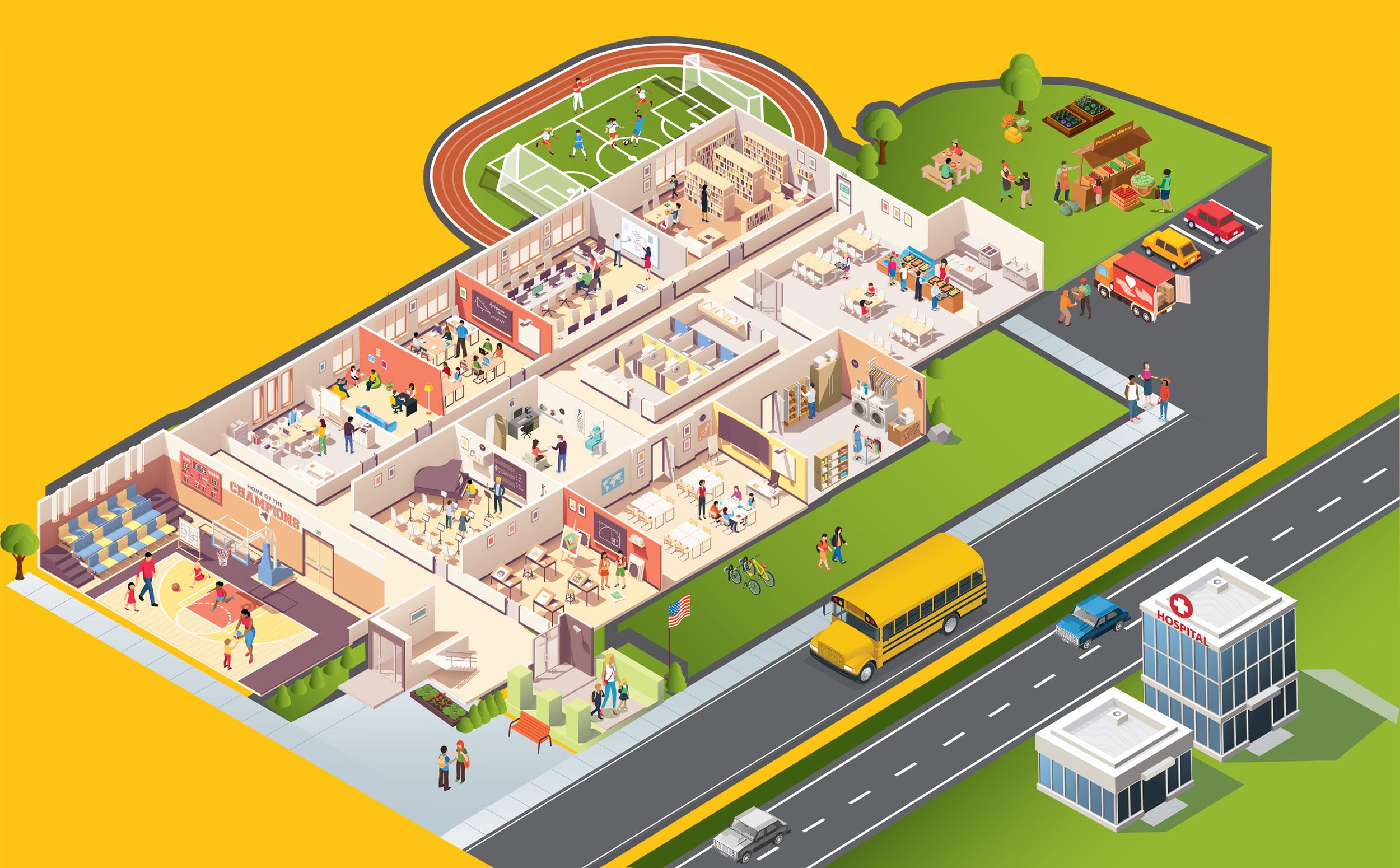 Continuing Education
Evening classes are available for parents and community members on topics such as ESL, literacy and personal finance.

Professional Development
Expanded professional learning opportunities keep educators informed and enriched.

Social Services
Expanded mental health services are available not only for students but for any family members who may be in need or experiencing a crisis.

Vision & Hearing Supports
Students can't learn if they can't properly hear their teacher or see the board.

On-Site Dental Clinic
Several community schools operate on-site dental clinics to meet this crucial healthcare need.

Access to Local Health Care Providers
School nurses have relationships with and direct access to local doctors and specialists. Some even offer telehealth appointments with doctors during school hours.

Food pantries
Available for students and their families, food pantries can provide needed supplementary nutritional assistance.

School meals
Full availability of breakfast, lunch and, in some cases, dinner help keep students learning effectively

Farmers markets
Some community schools host weekend farmers' markets that bring vendors from the surrounding communities to provide fresh, nutritious food.

Laundry
Washers and driers on site can help families in a pinch.

Clothes Closets
Clean clothes are available for children and adults.

Expanded Hours
Before- and after-school programs mean students have more access to a safe learning environment and gives parents more flexibility with work schedules.
Key Players

Community School Director/Coordinator
A dedicated and specially trained staff member who works with parents, teachers, administrators and community members to develop and implement community school programs.

Educators and Administrators
The community school model involves all school faculty and staff contributing to the wrap-around service model but also provides them with enhanced community and peer support.

Families
Families are a key part of the learning equation and are welcome to participate in school and community events and become active drivers of program development.

Community Partners
Health care providers, food suppliers, local businesses, police and emergency workers all have some integration with the operations of the school.
Why Union Involvement in Community School Initiatives
Unions have gotten involved in community schools because they are convinced that services, supports, and enrichment activities support educators inside the classroom, make the curriculum more relevant and engaging, and create conditions for learning that enable children to succeed. Educators and school staff are often best acquainted with students, families, and their needs. Union involvement gives educators a voice in the initiative. Educator input on the local community school shared leadership team is invaluable. In addition to forging strong partnerships, important decisions about scheduling, personnel, and instruction need to be made.
With the shared leadership structure of a community school, local unions get involved in community school initiatives in a myriad of ways. Union involvement ensures a culture and contracts that support community schools.
Union leaders and members often have existing relationships with noneducation allies. Union leaders and members often have access to and relationships with families, the community, community leaders, city leaders, other school district employees, public agencies, labor organizations, faith-based organizations, institutions of higher education and many other potential partners.
Union leaders and members can also advocate for local and statewide policies and funding in support of community schools.
Develop a rollout strategy
Educate community, members, and families
Host conversations about "what," "why," and "how" of community schools.
Utilize CBA or MOAs to introduce language to support community schools to ensure the community school coordinator position and the local community school shared leadership team are in place.
Apply For Federal Grants
With strong bipartisan support, community schools have received steady funding increases over the past few years at the federal level. Community school funding available through the U.S. Department of Education includes: