New York needs a "new deal" for public higher education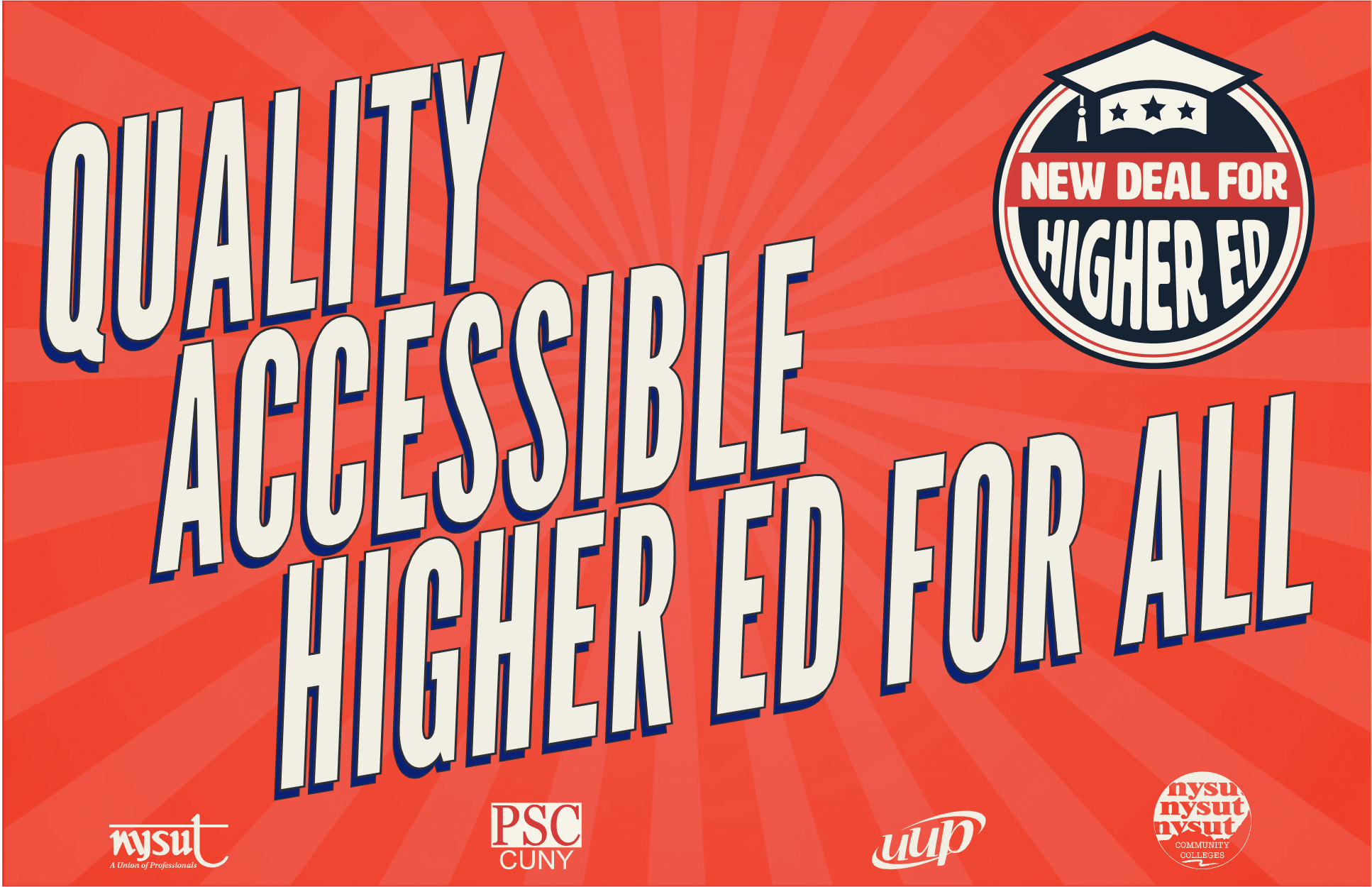 As the 2023 legislative session begins, our state leaders must craft a "new deal" for public higher education. One that offers New York state students access to learning at a top-rated public college or university without amassing thousands of dollars in debt.
To put the state on a path toward achieving that goal, New York State United Teachers is calling for a $4.7 billion investment in public higher education. Hundreds of NYSUT activists traveled to Albany in February to bring that message to lawmakers during the union's Higher Education Lobby Day.
Although SUNY, CUNY and community colleges received historic funding increases in last year's state budget, the institutions still face great need due to years of underfunding. NYSUT calls for funding to substantially increase the number of full-time faculty and increase pay for adjuncts.
The union also supports increased funds for student mental health supports since many students face steep financial and personal difficulties, including food insecurity. These are problems that have only worsened since COVID-19.
The additional funding would expand access for students of color, first generation attendees and students whose family incomes fall well below the state average. The move would help to foster economic mobility, reverse economic disparity and provide more students with the skills and supports they need for future success.
Increase operating support
To enhance the quality of students' experience and increase student retention and graduation rates, the statewide union seeks a $1.44 billion state investment in operating support to increase the number of full-time faculty and better compensate adjuncts.
$320M SUNY four-year campuses
$175M SUNY hospitals
$439.3M SUNY community colleges
$261.4M CUNY four-year campuses
$250M CUNY community colleges
Boost student support
From having healthy food to eat, to being able to access mental health and counseling services, our public higher education campuses must nurture students physically, mentally and academically. To meet the needs of these students, NYSUT seeks a $267.2 million investment in student supports:
$30.5M SUNY four-year campuses
$100M SUNY community colleges
$91.2M CUNY four-year campuses
$45.5 M CUNY community colleges
Make public higher ed accessible for all
Reaching into students' pockets to fund public higher education, instead of investing public dollars, is setting them up for years of student loan payments – not success.
NYSUT seeks a $3 billion investment in CUNY, SUNY and community colleges to improve access to public higher education without increasing costs for students.