It's time for a 'new deal' for public higher ed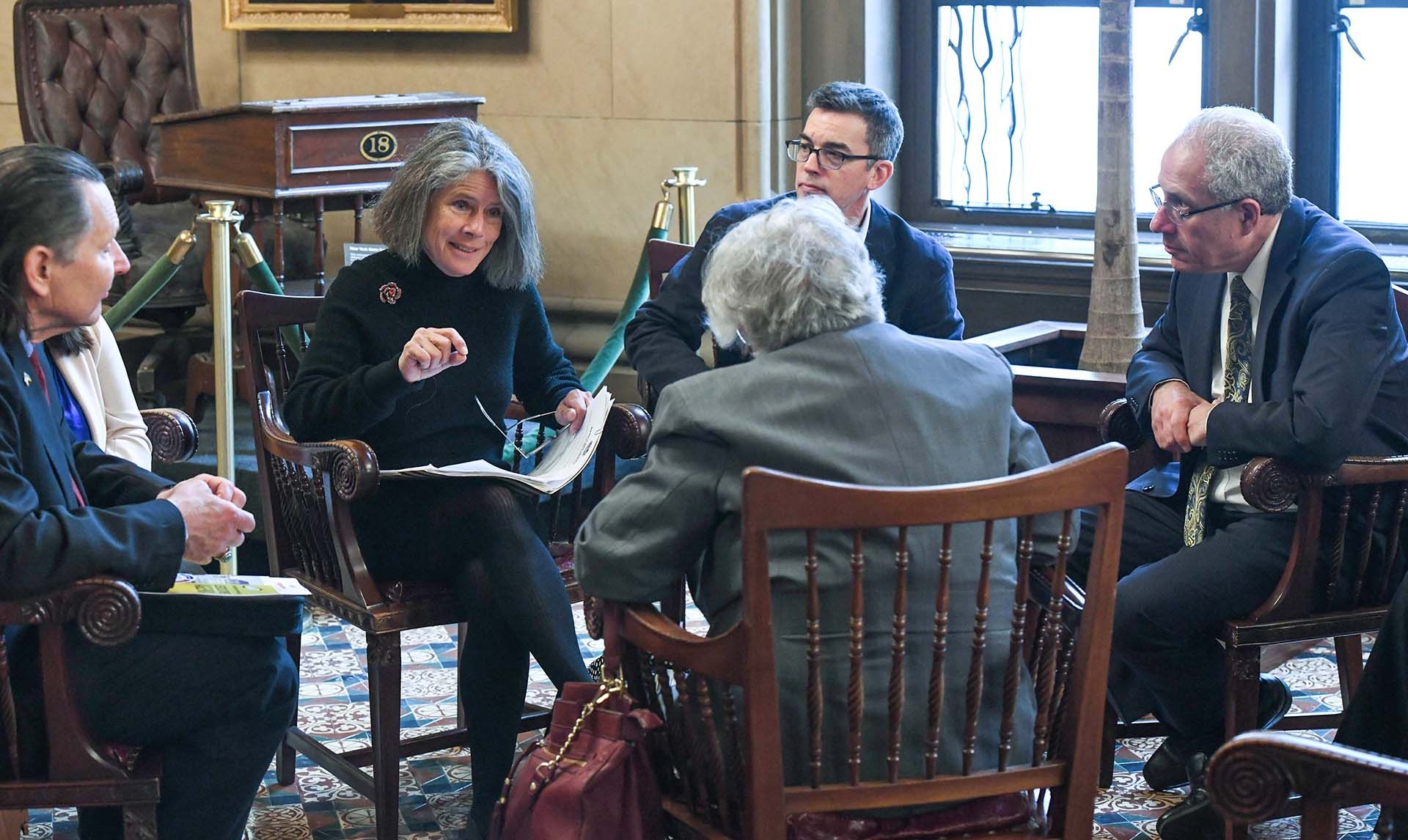 Photo by El-Wise Noisette.
Union leaders, educators and students joined together this week for a series of events to urge state lawmakers to support the New Deal for Higher Education.
The initiative kicked off Sunday evening with a NYSUT Higher Education Policy Council meeting, where union leaders at SUNY, CUNY and community colleges discussed the urgent need for a $4.7 billion boost for public higher education. That message was hammered home throughout the week, with a Higher Education Summit, legislative reception and dozens of meetings with individual lawmakers.
"New York state must reaffirm public higher education's role in our society by standing up for a just, inclusive and well-funded public higher education system," said NYSUT President Andy Pallotta. "We can't fall into the trap of shifting the increasing costs of public higher education onto the backs of our students."
"We fully support Governor Hochul's call for reimagining SUNY as the preeminent institution of higher education in the country," said Frederick E. Kowal, president of United University Professions, the union representing faculty and staff at SUNY campuses.
"While we appreciate the funding for SUNY in the Executive Budget, we remain gravely concerned about the untenable financial situation at too many of our campuses, and our three public teaching hospitals. More direct state aid is necessary to eradicate deep-seated financial problems at 19 state-operated campuses, which are facing projected or structural multimillion-dollar deficits. We look forward to partnering with the governor and the Legislature to provide adequate funding necessary to stabilize these campuses and our hospitals."
"Our institutions are powerful sources of opportunity and economic growth. Yet they have been straining to achieve their missions on austerity budgets," said Professional Staff Congress President James Davis, representing faculty and staff at CUNY. "A New Deal for Higher Education, with big investments in CUNY 4-year colleges and community colleges, as well as in SUNY campuses and hospitals across the state, would mean a better education for our students and a stronger New York."
"The governor and legislature must increase supports for students attending community colleges and four-year campuses statewide. Our students have many needs, such as food insecurity. Wrap around services, like academic and mental health counseling are a must to ensure their academic success," said Roberta Elins, United College Employees of Fashion Institute of Technology president, who chairs NYSUT's Higher Education Policy Council.
Kowal, Davis and Elins delivered the urgent call in personal meetings with legislative leaders, including Assembly Speaker Carl Heastie and Senate Majority Leader Andrea Stewart-Cousins. They also met with Division of Budget staffers.
In addition to the leadership meetings, higher education advocates attended a Higher Education Summit on Tuesday and met individually with lawmakers. Dante Morelli, president of the Faculty Association of Suffolk Community College; Faren Siminoff, president of Nassau Community College Federation of Teachers; and Andy Sako, president of Faculty Federation of Erie Community College, all brought dozens of students.
Although SUNY, CUNY and community colleges received funding increases in last year's state budget, the institutions still face great need due to years of underfunding. Advocates are seeking increased funding for student mental health supports since many students face steep financial and personal difficulties, including food insecurity. These are problems that have only worsened since COVID-19. In addition, activists are calling for funding to substantially increase the number of full-time faculty and increase pay for adjuncts.
Advocates also noted the additional funding would expand access for students of color, first-generation attendees and students whose family incomes fall well below the state average but don't qualify for financial aid?. They said the New Deal for Higher Education would help foster economic mobility, reverse economic disparity and provide more students with the skills and supports they need for future success.
The New Deal for Higher Education calls for the state to provide:
$1.44 billion in additional operating support to increase student retention and graduation rates, increase the number of full-time faculty and better compensate adjuncts;
$267.2 million state investment in student supports such as mental health and counseling services; and
$3 billion to improve access to public higher education without increasing costs for students.
PHOTO GALLERY